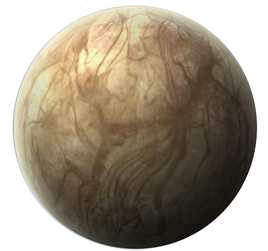 Planet
Therastah
lies towards the centre of the
Polaris Galaxy
, making it substantually hotter than any other planet. The climate of this planet is regarded as extreme, temeratures sometimes reaching 150 degrees celcius.
Life is minimal on Therastah, due to the limited amount of water sources and the fact that it never rains. Any life here is known to reside underground, where it is substantially cooler. This tactic also helps protect from the constant solar sandstorms that course the planet daily.
Observing the planet, heat-resistant satellites orbit Therastah, monitoring life. Observed life includes as follows:
Satellite log
Edit
Powering up...

Loading options...

Started log at date ██/██/██ 23:03

Observing quadrant OBG-3...

Detected entities: 032

Species detected: 2

Species: Hellions and Fire Dragons, 90% Hellions APX.

Moving on to quadrant OBG-4...

Found one anomaly. Scanning matches to known life...

0 matches found.

Detecting 2 unknown craft...

Craft detected. Anomalies Inc..

Sending warning message to Obanni Draco III...

Message sent. Systems powering down by external causes...

Sending live feed of log with record log...

Log sent. Live log in progress.

Delay: APX. 25 minutes.

Enabling camera feed...

Camera feed failure - external source detected...

Program fail. Running diagnostics...

Diagnostics find nothing wrong. Running anti-virus detections...

234 viruses found. Attempting to remove malware...

Removal failure. External source detected. Putting up radiation shields...

Mechanical failure. Running external diagnostics...

2 craft detected - have satellite jammer probe - emergency sending log...

Log fail. Manual self destruct enabling...

Self Destruct sequence fail. Attempting to propel to Obanni Draco III...

Propulsion successful. 35% power - devoting all power to propulsion. Log ending - saving file...

File saved. Systems going offline...

Systems complete.

Final program activate: Radio jammer sequence. Activating...

Success.