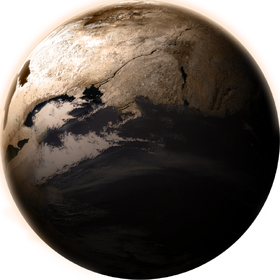 Snrinoken is the only planet in the
Solaris Galaxy
, the other planets being destroyed.
Shrinoken is very desolate, yet is 35% water. The water is highly salted, and is inhabitable for sea-life. The planet's magnetic field makes the planet appear a blue-green hue. If viewed up close, the planet can be viewed regularly.
Life on Shrinoken is limited to Gashousbags and Hellions.
Other places
Edit
For other uses of the term 'hell', see Hell (disambiguation).
Hell is the only place where Hellions can be found naturaly. These beasts create colonies, just to destroy each other.